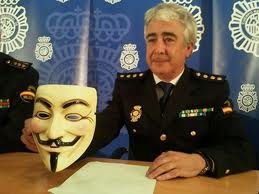 Interpol arrests of AnonymousInterpol on Tuesday reported they had arrested 25 members, four of them suspected with attacks on Spanish political party websites, they think, of the widely distributed and unstructured Anonymous cyber-rebels, with arrests in Argentina, Chile, Colombia, Spain and 11 other cities in South America. The investigation began last February and ended with the seizure of 250 items of IT equipment and mobile phones. (http://www.ctv.ca/CTVNews/TopStories/20120228/Interpol-says-25-suspected-Anonymous-hackers-arrested-120228/)
Interpol's Latin American Working Group of Experts on Information Technology Crime said the arrests were suspects aged between 17 and 40, may have been involved in the hacking of Colombia's defence ministry and presidential websites, Chile's Endesa electricity company and the national library. Officials said they do not yet know if those arrested are tied to any "illicit group."
The group is accused of defacing websites (not uncommon with Anonymous attacks), and the group was allegedly preparing to deface and to launch "denial of service" attacks against other government websites. (http://www.csmonitor.com/World/Keep-Calm/2012/0229/Interpol-arrests-Anonymous-hackers-Do-they-warrant-the-attention)
Already, twitter is being choked with threats of denial-of-service revenge attack on Interpol's website One Twitter account purportedly associated with Anonymous' Brazilian wing said the sweep would fail.
"Interpol, you can't take Anonymous," the message read. "It's an idea."
And an idea with teeth, because in early February the FBI confirmed that hackers intercepted and leaked a sensitive conference call between the bureau's cybercrime investigators and Scotland Yard. (http://news.sky.com/home/world-news/article/16162616)
Anonymous published on the Internet a 15 minute-long recording of a confidential phone conversation between investigators discussing how to corner the widely dispersed group.
Two weeks ago I wrote about the Anonymous promise to reveal personal information on Canada's Safety Minister Vic Toews unless he scrapped the Protecting Children from Internet Predators Act and step down. (http://news.nationalpost.com/2012/02/20/vic-toews-anonymous-hackers/). Anononymous did take further action, revealing Toews mistress.
The thing is, Anonymous cannot be found anywhere – it is a collective, a loose one at that with no real membership, and anyone can claim they are a part of Anonymous, and an idea.
So we can take these arrests with some caution.
More to come I'm sure !