By Terry Cutler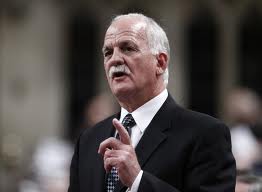 Seems I am writing more about the cyber-rebel hacker group Anonymous these days, and it is for good reason. The collective hacking group has been in the news, and lately with a Canada flare.
Canada's Public Safety Minister Vic Toews has been under fire for more than two weeks, specifically for his controversial "online snooping bill" called Bill C-30, The Protecting Children from Internet Predators Act.
Now, no one is against protecting our children from these predators who have used the Internet as a "hunting" tool, but groups say the bill would give police, the RCMP and other government investigative agencies much broader powers to snoop on the online communications of Canadians, allegedly without a warrant.
A given, the bill has been met with almost insurmountable opposition from Internet privacy and civil rights groups, who say the bill would build a state surveillance system into Canada's Internet.
Toews angered the public last week many he said opponents of Bill C-30 were friends of child pornographers. (http://www.canada.com/news/RCMP+investigating+threats+Toews+from+Anonymous+hacker+group/6177638/story.html#ixzz1nEvknRmW) His statement is outrageous, of course, but the statement began a worldwide social media blitz, which was harmless, but attracted some serious attention from Anonymous. To date, this is also harmless, but it does make a point.
Anonymous posted a video to YouTube threatening Toews with "Operation White North," the name for the Anonymous' campaign against Bill C-30.
The video, a robotic voice says," All this legislation does is give your corrupted government more power to control its citizens. "We demand that you scrap the bill in its entirety and step down as safety minister," the video says. "We know all about you, Minister Toews."
Then one day ago, Anonymous released a seven-minute video with details about Toews' now-public divorce. Anonymous named Stacey Meek, now a sacrificial lamb in all this, as his alleged mistress, claiming that she was a babysitter with whom he had an affair between 1986-1993.
The video reveals details about her current and past employment, and claims that Toews and Meek are currently living together in a common law marriage with a child. (http://www.vancouverobserver.com/politics/news/2012/02/22/anonymous-reveals-name-vic-toews-alleged-mistress)
This was all to contradict Toew's Family values and his affair. You can read the Anonymous tread at (http://pastebin.com/3uZ2rm0T).
Toews did respond to the house and Anonymous.
"Let me be very clear: the police will not be able to read emails or view web activity unless they obtain a warrant issued by a judge and we have constructed safeguards to protect the privacy of Canadians, including audits by privacy commissioners."
(http://pastebin.com/3uZ2rm0T)
It is rather interesting, and impressive, that this hacktivists group could uncover Toews' mistress; then is it not concerning that if they could do it, so could the government?  There is the point being made, but unfortunately at the expense of Stacey Meek.