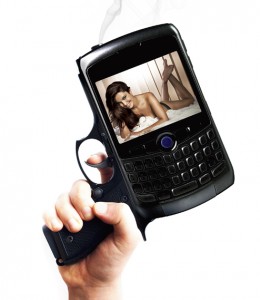 How would you feel if you casually opened a mail and found the link to a pornographic site — and it turned out to contain pictures of yourself naked? That's what Kalpana did. She clicked on a link sent to her and, to her horror, found that the face of the girl who "was available for sex" was hers. Her stomach lurched when she saw that the pictures showed her own bedroom. The site also contained her personal and contact details.
Kalpana was shattered. The subject line of the mail had said "I'm going to ruin you, dear". It had seemed like a prank. Only, it wasn't. It was a very real and malevolent attempt to destroy her reputation.
The 24-year-old Mumbai-based bank executive had become a victim of revenge porn — a new form of cybercrime in which ex-lovers or boyfriends upload intimate photos and videos of their former partners for the world to see. Mostly, the sexually explicit pictures are of women posted by jilted or spurned men.
Kalpana's photos, it was later found, were posted by her recently divorced husband, Pranay. They were taken when the two lived together.
Revenge porn is a trend sweeping across the developed world — from the US and Japan to countries in Europe. And now it's being seen in India, fuelled by the growing access to the Internet and camera-wielding mobile phones — all that is needed for taking and posting offensive pictures.
Continue reading here http://www.telegraphindia.com/1140803/jsp/7days/18682133.jsp

VP of Cybersecurity
at
SIRCO
I'm
Terry Cutler
, the creator of
Insider Secrets from an Ethical Hacker on Internet Safety
…That's a system that's been used to help defend corporations and individuals from cyber threats. 
I'm a government cleared cybersecurity expert (a Certified Ethical Hacker), and the Vice-President of Cyber at
SIRCO
, an investigations and protections firm in Montréal, Canada. 
I'm also a frequent contributor to
National & Global media reportage
about cyber-crime, spying, security failures, internet scams, and the real social network dangers that families and individuals face every day.