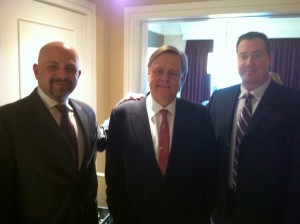 Montreal, QC (Television Interview) which aired September 7, 2012 but the distribution rights were granted January 1st, 2013 Episode #1520 – The sooner we accept that nothing is truly secure in this digital world which we've created, the sooner we may develop more dependable means of safeguarding our online information. Until then, Bob's guests this week will continue to run a thriving cyber security business, battling hackers, malware, botnets and all other forms of digital threats. Certified as "ethical hackers" (there is such a thing), Terry Cutler and Wadih Tannous of Digital Locksmiths Inc. help businesses strengthen their security and privacy measures by identifying risks and encouraging more vigilant behavior. They emphasize how incredibly easy it is for hackers to access critical data regardless of how stringent security may appear to be. Naturally, they're anticipating massive growth in their industry for years to come.
Digital Locksmiths is interviewed by Robert Scully of The World Show : The Dobson Series
About Scully World Show: The Dobson Series
Scully: The World Show is a Canadian talk show hosted by Robert Scully, who has interviewed some of the world's most prominent and famous personalities. Each week, Scully – once dubbed "the best interviewer on television" by the Montreal daily La Presse – discusses topical issues with Nobel laureates, heads of state, royalty, authors, financiers, athletes, designers, diplomats and philanthropists. The show, which debuted on November 5, 1988, has been taped worldwide. It is produced in Montreal, Quebec, Canada by Telemission Information Inc. and airs in syndication. The talk show was first syndicated for the 1998-'99 season and is distributed by American Public Television.
Bob Scully's World Show is a syndicated program seen throughout North America and the world. In 2011, it was telecast 17,211 times, over 230 stations, across 42 states and 114 markets, including eight of the top ten Nielsen DMA markets (New York, Los Angeles, Chicago, Philadelphia, Dallas, San Francisco, Boston and Washington), on PBS affiliates.
Over the years, it has been seen as well throughout Canada on eleven different networks, and in more than sixty countries. Among the numerous business and economic personalities whom Bob has interviewed in long format are:
| | |
| --- | --- |
| ARNAULT, Bernard | DILLER, Barry |
| GATES, Bill | ROTHSCHILD, Baron Guy de |
| BALSILLIE, Jim | DOBBS, Lou |
| GUERLAIN, Jean Paul | SAMUELSON, Paul |
| BENETTON, Luciano | FONDA, Jane |
| HAYEK, Nicholas | SOROS, George |
| BLOOMBERG, Michael | FORBES, Stephen |
| MARCONI, Princess Elettra | TALEB, Nassim Nicholas |
| BRANSON, Sir Richard | FORD, Charlotte |
| PICASSO, Paloma | TRUMP, Donald |
| CISNEROS, Gustavo | FRIEDMAN, Milton |
| PICKENS, T. Boone | VOLCKER, Paul |
| DESMARAIS, Paul Sr. | GALBRAITH, John Kenneth |
| ROCKEFELLER, David | WELCH, Jack |