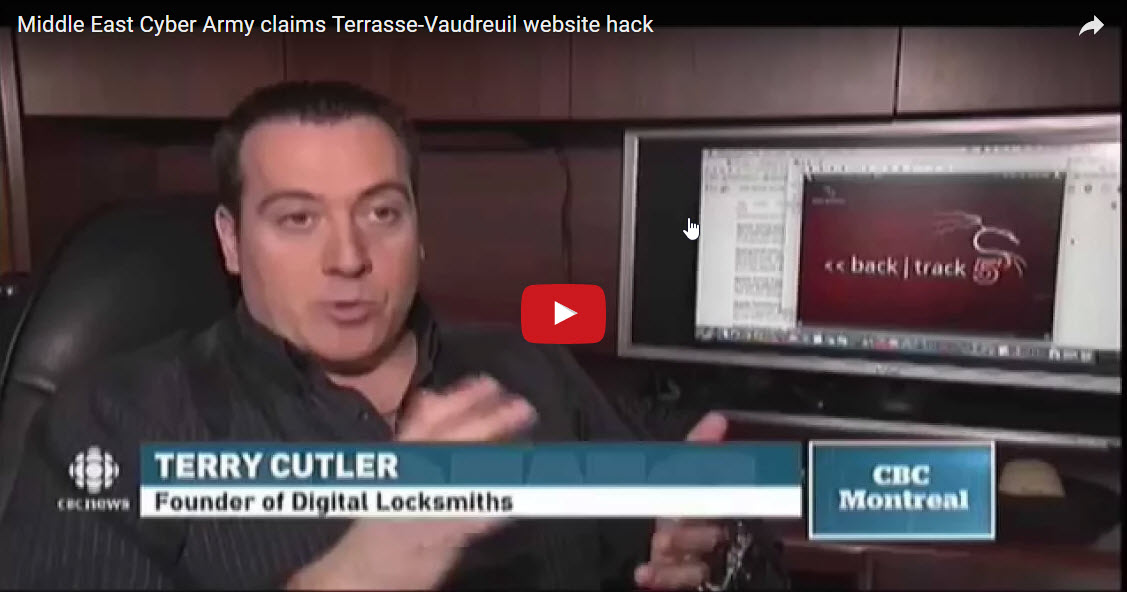 CBC Montreal
Published Friday, January 23, 2015 11:37AM EST
Small Quebec community website hack possibly linked to Islamic extremists.
The homepage of the Terrasse-Vaudreuil municipality website boasts a message that reads:
"We are Muslims. Quran is our book. In Allah we trust. For Allah we work. SCREW YOU Charlie Hebdo."
It continues to praise the religion of Islam, ending with the hashtag #OPFRANCE.
The message is signed by a group calling itself the Middle East Cyber Army.
An easy hack?
It is not known who is actually responsible for the hack or why Terrasse-Vaudreuil, a town of around 2,000, was targeted.
Terry Cutler, a self-avowed ethical hacker, said Terrasse-Vaudreuil was probably just an easy hack.
"What they do is they go to Google, they run these special searches — 'Show me everybody in Canada running this specific version of the software of this website,'" Cutler said, adding that hackers then launch a script that hacks into all the sites.
He said it's likely just an attempt to find a platform to promote a certain message.
Terrasse-Vaudreuil Mayor Michel Boudreau said early Friday morning that he was aware of the issue. The original website was restored shortly before 8 a.m. ET.
In December, a town outside Chicago was similarly hacked.
It is not clear whether the hacks are truly related.

VP of Cybersecurity
at
SIRCO
I'm
Terry Cutler
, the creator of
Insider Secrets from an Ethical Hacker on Internet Safety
…That's a system that's been used to help defend corporations and individuals from cyber threats. 
I'm a government cleared cybersecurity expert (a Certified Ethical Hacker), and the Vice-President of Cyber at
SIRCO
, an investigations and protections firm in Montréal, Canada. 
I'm also a frequent contributor to
National & Global media reportage
about cyber-crime, spying, security failures, internet scams, and the real social network dangers that families and individuals face every day.